Battery Inspection & Testing Service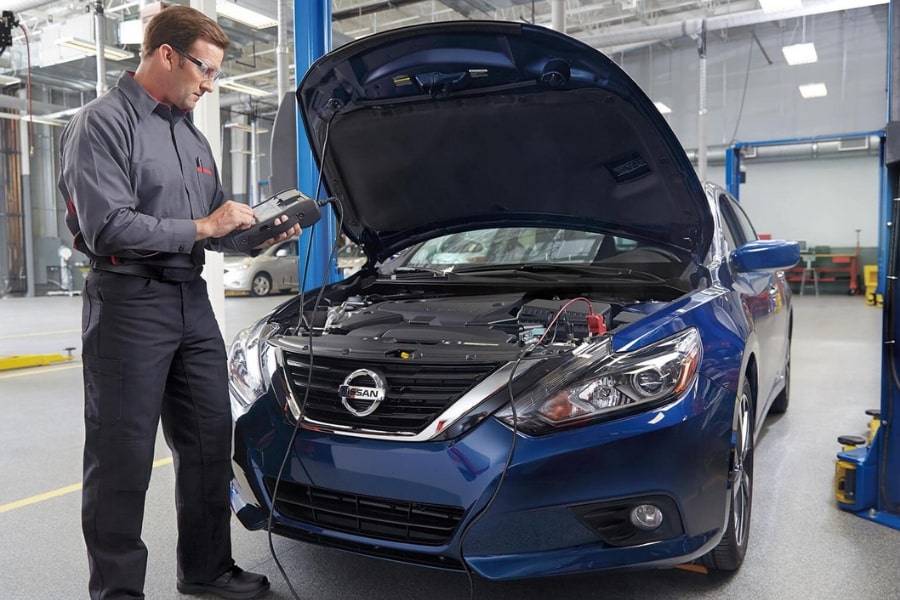 Nissan Battery Inspection and Testing in Tustin, CA
At Nissan of Tustin, we operate a beautiful new facility staffed with a team of certified Nissan technicians that have extensive training and direct experience inspecting and testing automotive batteries. One of the most important pieces of knowledge when it comes to maintaining automotive batteries at reliable performance is knowing their greatest limitation – extreme temperatures and temperature change across seasons. With summer heat concluding and milder weather ahead, we know that now is the best opportunity to catch dying batteries before they fail, and the best way to catch a dying battery is with a professional service. If you have symptoms of a dying battery or want to know that your battery is in excellent condition coming off a sizzling California summer, we invite you to our Nissan Service Department for service that matches your vehicle's brand name. We are conveniently located in Tustin, CA near Irvine and Santa Ana, CA.
Indicators of a Dying Car Battery
The battery is an essential component of your vehicle's electrical system. It's responsible for storing electricity and sending it as needed to the starter and electrical accessories when the engine is off. The telltale symptoms of a dying battery are related to electrical performances. By testing the battery's reserve capacity and cold-cranking amps, we can tell immediately if the battery is good to go or requires replacement. If you experience any of the indicators of a dying auto battery, it is wise to get it checked and replaced as needed to ensure reliable performance. Here are the common indicators of a dying auto battery:
Sluggish, slow, or difficult engine starting
Dimmer headlights
Battery case is disfigured, swollen, or leaking fluid
Corrosion on the battery terminal
Problems with electric component performance
Nissan of Tustin Battery Services
At Nissan of Tustin, battery Inspection and testing begins with a Certified Technician working in a beautiful new facility. The certified technician inspects the battery's physical condition to confirm factory-specified integrity. If the battery is damaged physically, it will require replacement. If the battery is in good shape, the expert technician uses a multimeter to test reserve capacity and cold-cranking amps. If the battery fails the performance metrics, it will require replacement with a genuine OEM battery from our Nissan Parts Department. Every service with us finishes with a free multi-point inspection.
Why Choose Nissan of Tustin?
Nissan of Tustin offers a great facility and offers a great waiting area as well. They have a great team and a great range of services that can help get your car back on the road faster.
Schedule Service
---
Our Service Center Amenities
Kids Play Area
Complimentary Starbucks Coffee
Complimentary Snacks
Beautiful New Facility
Luxurious Waiting Lounge
Vending Machine
Certified Nissan Technicians
Friendly and knowledgeable Service Advisors
Genuine OEM Nissan Parts
Complimentary Shuttle Van*
Complimentary Loaner Vehicles*
Hot Tea
---