Complete Brake Service - Brake Fluid, Pad, Rotors, Calipers, Lines & Cylinder
The brakes on your Nissan should be serviced regularly to make sure the braking system is functioning properly and it is being well-maintained. This will help to prevent any braking problems while driving around Tustin, California. Failure to
properly maintain the brakes
and its components can result in the brakes failing while driving which could lead to an accident.

The Braking System Includes:
Brake Fluid.
Brake fluid is used to provide the hydraulic pressure the system needs to press the brake shoes against the rotors in order to stop your vehicle.
---
Brake Pads
/ shoes.
The shoes are used to apply direct pressure against the rotors. The shoes have a plate with friction material on it. The friction material presses against the rotor which causes it to slow down.
---
Brake Rotors.
A rotor is connected to the axles and the brake shoes and caliper holding the brake shoes goes over it. When the brake pedal is pressed down, the shoes clamp down on both sides of the rotor and squeezes it to stop it from spinning around.
---
Calipers.
Calipers are heavy metal devices that slip over a portion of the rotors. The calipers have a piston inside of them. The piston is forced out by hydraulic pressure when the brake pedal is pressed down by the brake fluid. The piston forces the brake shoes against the rotor.
---
Brake Lines.
The brake lines move the fluid from the master cylinder to the calipers.
Schedule Service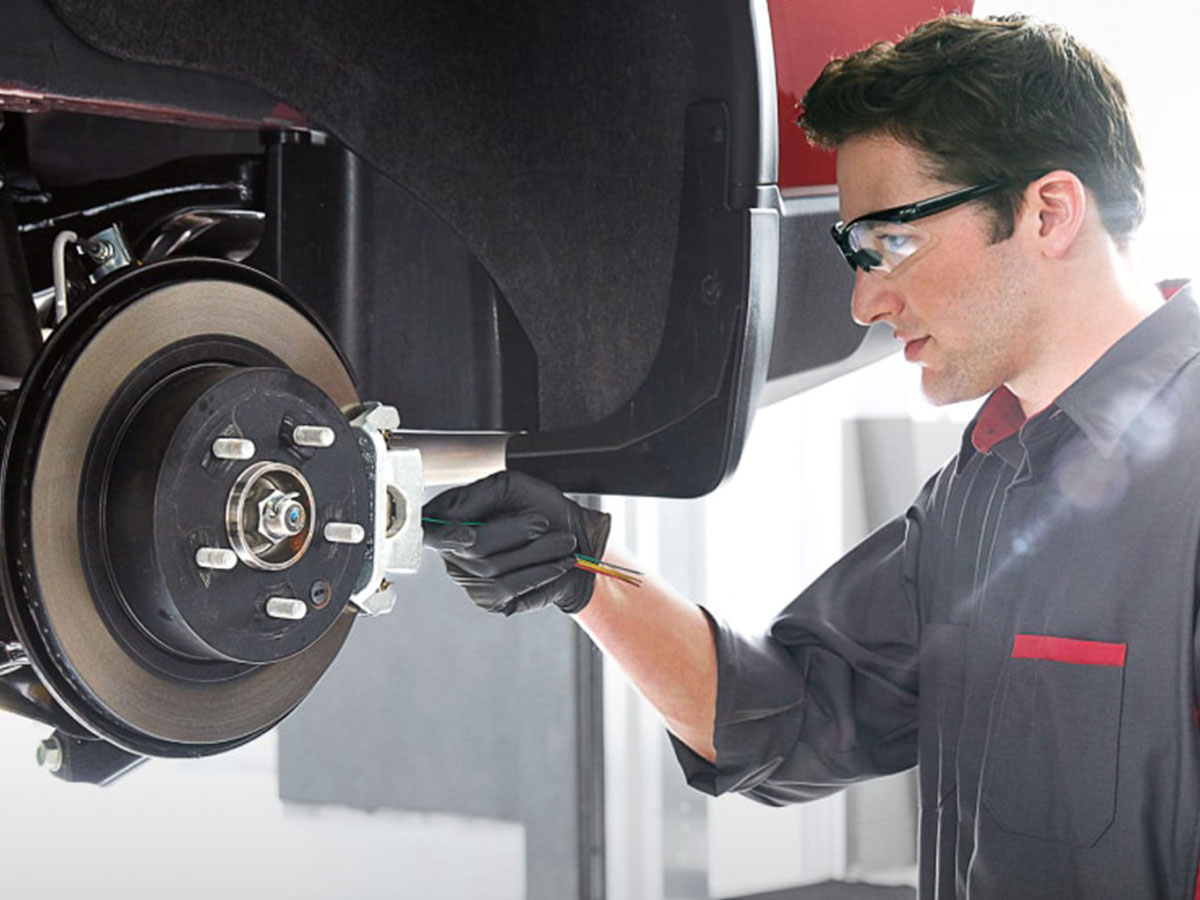 How to Tell When the Brake System Needs Servicing
There are
signs that indicate the braking system on your Nissan needs service
right away. These signs include:
The brake pedal will feel spongy when you press down on it or it goes all the way down toward the floor.
You will hear squealing or grinding sounds coming from the brakes. This indicates the shoes are wearing down.
The vehicle pulls to one side when you apply the brakes.
The brake pedal starts to shake when you apply pressure to it. The steering wheel can also start to shake.
The warning light comes on in vehicles that have an anti-lock braking system.
When you notice issues with the braking system on your Nissan, you should come to Tustin immediately to have it checked out. Tustin has a brand-new facility filled with Nissan-certified technicians and the latest state-of-the-art equipment. We use
genuine Nissan parts
in all of our repairs and replacements. We also have a luxurious waiting room with a kid's play area and complimentary Starbucks coffee, snacks, and hot tea. There are complimentary loaners and shuttle service also available for your use. Nissan of Tustin also serves the communities of
Irvine, Santa Ana, and Anaheim, CA
.
---
Our Service Center Amenities
Kids Play Area
Complimentary Starbucks Coffee
Complimentary Snacks
Beautiful New Facility
Luxurious Waiting Lounge
Vending Machine
Certified Nissan Technicians
Friendly and knowledgeable Service Advisors
Genuine OEM Nissan Parts
Complimentary Shuttle Van
Rental Vehicles Available
Hot Tea
---