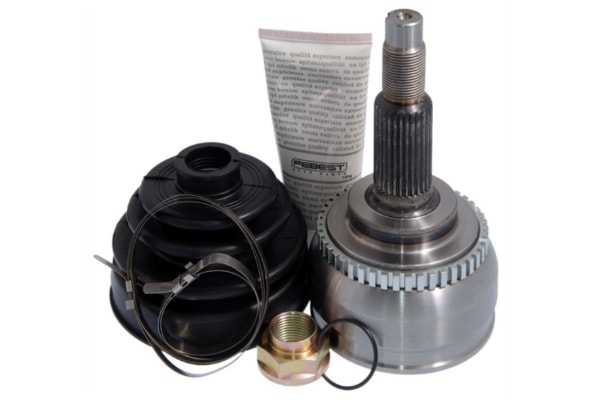 Nissan CV Axle Inspection, Repairs & Replacement Service in Tustin, CA
A CV axle is a shaft that transfers power to a wheel. A front-wheel-drive car has two CV shafts or axles. An all-wheel-drive car would have these on the back wheels as well. This type of axle is needed when the car has independent suspension. Each tire reacts to the road, moving independently of other wheels. The CV, which stands for constant velocity, gives power to each wheel independently. If this sounds too complicated, bring your car to Nissan of Tustin in Tustin, CA, to get your axles checked and replaced if needed. We are a short drive from Irvine and Santa Ana, CA.
Nissan Axle Issues
The CV axle has a few moving parts that can wear out. There is a lot of grease inside the axle, and it is sealed with a boot. That boot can wear out and the grease will leak out and the axle will wear out very fast. Axles can also wear out from too much use or can be damaged by an accident. When the CV axle is going bad there will be a clicking sound when you turn the steering wheel. It can also make that noise when accelerating. The vehicle may also shake when it gets very worn.
If the boot breaks, and you catch it soon enough, you can replace only that part. If you see grease leaking out onto the wheel, that means the boot has gone bad. Most people do not catch this in time though. If you ignore this long enough your car will simply not go anywhere once the axle breaks. This could cause an accident if you are going fast down a highway at the time. You could lose control of your car in that scenario. Bring your car to us when you first start hearing clicking sounds. There is still some time when this happens, but don't wait too long.
Nissan of Tustin Service & Parts
Bring your car to Nissan of Tustin in Tustin, CA, and see our beautiful new facility. We are not far from Irvine and Santa Ana, CA. Our friendly and knowledgeable service advisors can help you determine the best course of action. Certified Nissan technicians use only genuine OEM Nissan parts. We have a complimentary shuttle van and complimentary loaner vehicles for when you have to leave your car with us.
Schedule Service
---
Our Service Center Amenities
Kids Play Area
Complimentary Starbucks Coffee
Complimentary Snacks
Beautiful New Facility
Luxurious Waiting Lounge
Vending Machine
Certified Nissan Technicians
Friendly and knowledgeable Service Advisors
Genuine OEM Nissan Parts
Complimentary Shuttle Van*
Complimentary Loaner Vehicles*
Hot Tea
---