Research 2021 Nissan Rogue Review – Tustin CA

View Inventory
Vehicle Overview
The next-generation Nissan Rogue has been announced and will soon be rolling off production lines and arriving at your local Nissan dealership serving Tustin Orange Costa Mesa Garden Grove. The team at Nissan of Tustin is excited to introduce the new Rogue, and this 2021 Nissan Rogue review is a great opportunity to build some hype and inform drivers based on the details we currently have available. Please be mindful that all of the specifics provided here are subject to change between now and arrival, but they were accurate at the time of this writing based on both public and intercompany releases.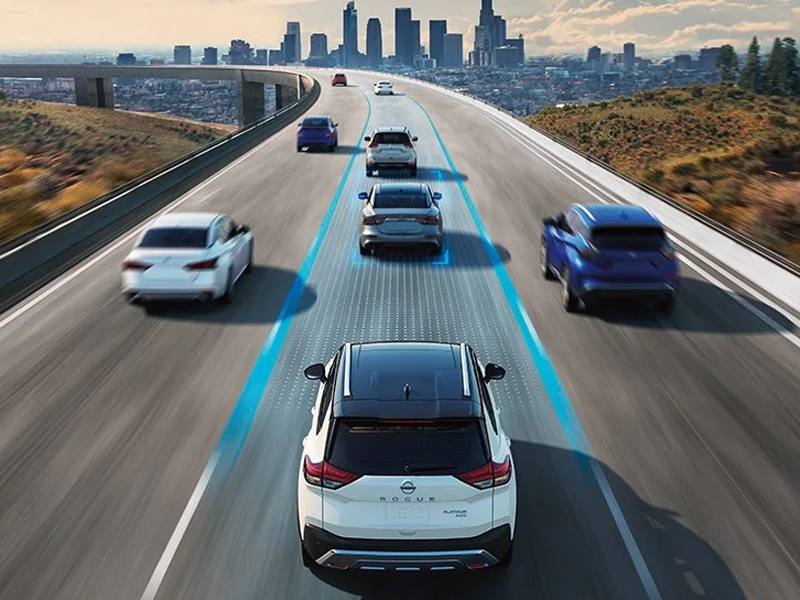 Exterior - 2021 Nissan Rogue
One of the most noticeable changes when it comes to this 2021 Nissan Rogue review is the new exterior. The new Rogue has a much boxier design that boasts hard angles, and this makes the vehicle look much more like a truck-based SUV—despite it still being car-based. The wheelbase is similar in size to the previous generation, but overall length is less by 1.5 inches, and the vehicle is a bit lower to the ground. The cargo bed and rear liftgate have been reconfigured a tad in order to make access easier. A powered, motion-activated liftgate will once again be included with the second-tier trim and up.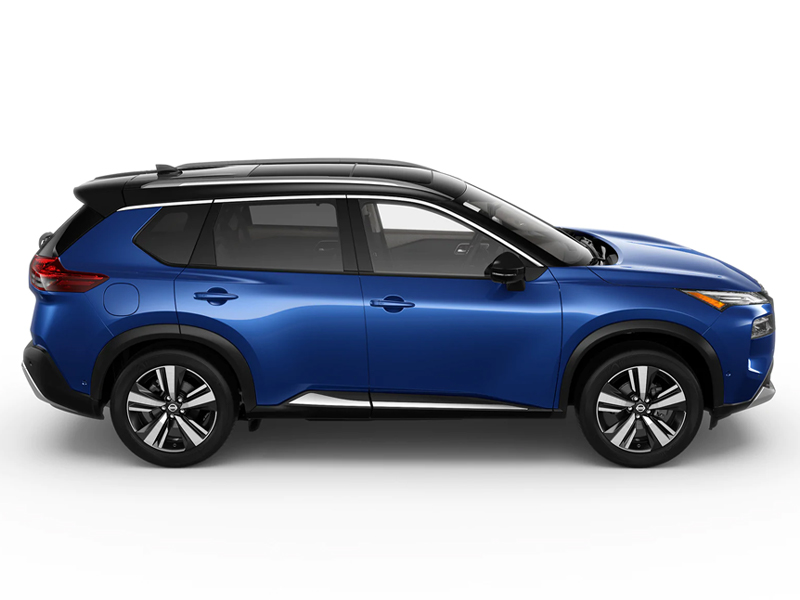 Interior - 2021 Nissan Rogue in Tustin
The new 2021 Nissan Rogue interior is similar to the last generation in some ways. It still has two rows, provides seating for five and offers nearly 40 cubic feet of storage space behind the second row. Aesthetically and functionally, however, the design is quite different. While the interior is again two-toned, the contrast is much more pronounced. The dashboard has also been completely redesigned. It now features a bi-level configuration that allows the landscape-oriented touch-display to sit above the dash. This makes viewing text messages and data from safety features while driving much easier.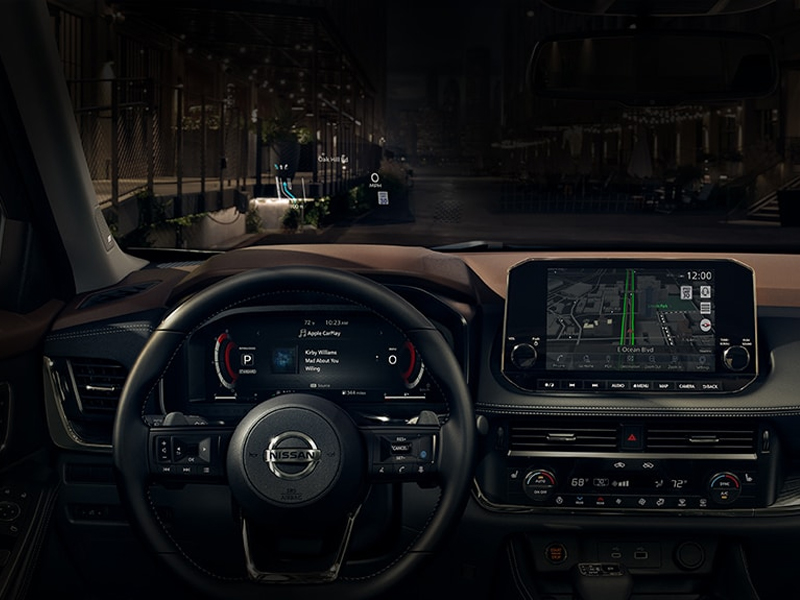 Mechanical - Nissan Rogue specs in Tustin
The Nissan Rogue has been available as either front-wheel drive or all-wheel drive since it was introduced more than a decade ago. This will continue with the 2021 Nissan Rogue. Four-wheel drive is standard. All-wheel drive is optional at the base trim level and up. The standard Rogue will again feature 17-inch wheels—although larger wheels will be available—along with four-wheel disc brakes and ABS. With proper equipment, towing capacity will also be similar at more than 1,100 pounds.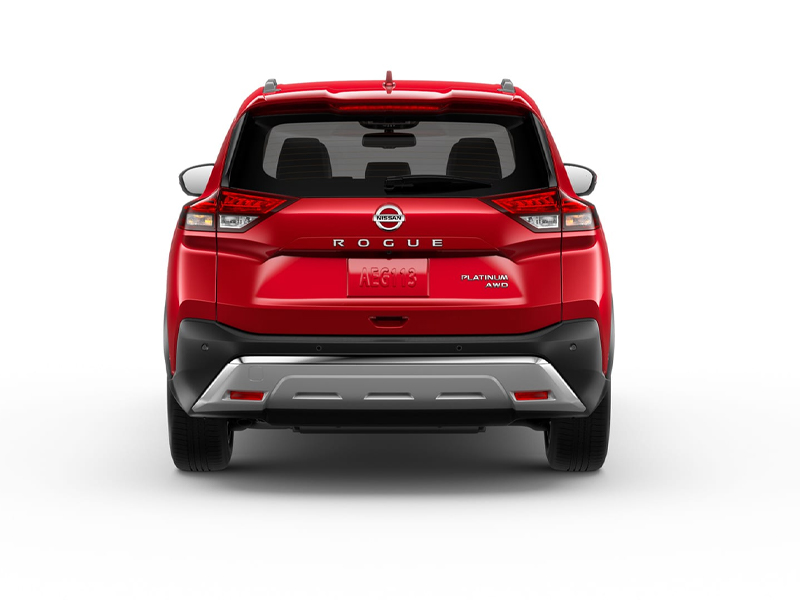 Powertrain - 2021 Nissan Rogue dealer
At first glance, it may seem that Nissan has simply carried over the powertrain from last generation to this generation, but a closer look at this 2021 Nissan Rogue review reveals a different story. The powertrain does still feature a continuously variable automatic transmission with overdrive paired with a 2.5L I-4 engine. The difference is that the setup is more refined. The 2020 I-4 was rated for 170 horsepower and 175 pound-feet of torque whereas the 2021 I-4 is rated for 181 hp and 181 lb.-ft. Nissan has also suggested better fuel economy, but these ratings were not yet available.
Safety - 2021 Nissan Rogue
Your local Nissan dealership serving Tustin Orange Costa Mesa Garden Grove is proud that Nissan has always take a strong approach to safety. The automaker fully expects to one again receive Top Safety Pick recognition from the IIHS-HLDI. Nissan will once again make its Safety Shield 360—its suite of driver assistance technologies—standard equipment. This package includes a rearview monitor, automatic headlights, automatic high beam control, front automatic emergency braking, rear automatic emergency braking, lane departure warning, blind-spot warning and rear-cross traffic alert. Nissan has also improved its infotainment software and hardware. The base model will now feature an 8-inch color HD touchscreen. A larger 9-inch touchscreen will be available and included at higher trims.
Test Drive Today - 2021 Nissan Rogue
Nissan of Tustin is the premier Nissan dealership serving Tustin Orange Costa Mesa Garden Grove. If you have questions or need information regarding the 2021 Nissan Rogue, our experts are here to help. Let us know you are interested, and we can set you up for a test-drive the day the new Rogue arrives. We also welcome you to call us, or you can contact us online through our website via live chat or email. Our entire inventory is available on the site, and we have client service specialists available to answer questions, discuss pricing and specials, provide custom quotes and assist with financing preapproval.