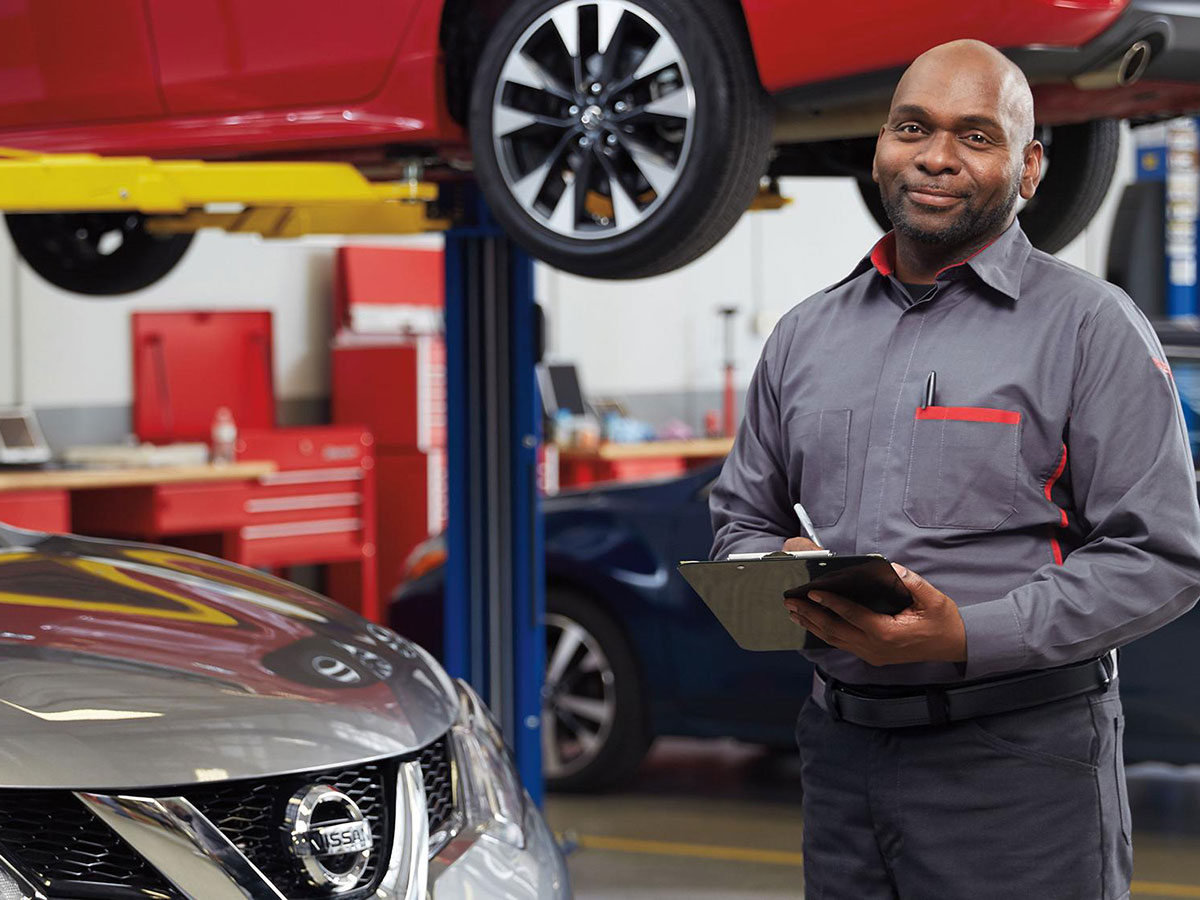 Tire Balancing Services in Tustin, CA
There are great roads with fantastic views throughout California. Your tires ensure good traction, keep your car going where you intend, and enable you to stop safely. Road hazards, neglect, and general wear-and-tear often undermine your car tires' ability to maintain traction. A nail, sharp object, bad pothole, or another road hazard could severely damage your tires. A simple tire balancing service and tire rotation ensures your tires are in good condition and will last much longer. Nissan of Tustin, CA, has a fully trained and certified staff of technicians who can balance, inspect and rotate tires on any make or model vehicle.
How We Balance Your Tires
When we do a tire balancing service, we remove all four wheels and check them on a spin-balancing tool. If the wheel does not rotate properly, we adjust weights to correct their rotation and smooth out your ride. While the wheels are off we also will rotate your wheels to keep your tire tread wear more evenly. That helps to maximize the miles you get our of all four tires while ensuring the best possible traction and ride.
We have a full selection of high-quality tires and a distribution network that gets specialty tires to us fast. That gives you the best options for replacing any damaged tires that cannot be correct with a simple spin balance or even a tire patch or repair service.
Importance of Driving on Balanced Tires
A tire balancing service removes your wheels and spin balances them to ensure they rotate properly. An imbalanced tire can cause the entire wheel to rotate incorrectly. That can cause a constant "thumping" or similar rhythmic sound to come from one of your wheels.
That also can make your ride less comfortable, while putting more wear and tear on your tires, wheels, brakes, and suspension. A simple and typically free tire balancing service can make sure your tires rotated properly and will not affect your ride or driving safety.
Schedule Service
It takes very little time to do a tire balancing service, and the peace of mind provided invaluably. Even better – the service is free. We have a brand new facility with a luxurious customer waiting area to keep you comfortable and entertained while work gets done. Those in Irvine and Santa Ana, CA, as well as other nearby communities, can use our free shuttle service to get things done while we do a tire balancing service.
---
Our Service Center Amenities
Kids Play Area
Complimentary Starbucks Coffee
Complimentary Snacks
Beautiful New Facility
Luxurious Waiting Lounge
Vending Machine
Certified Nissan Technicians
Friendly and knowledgeable Service Advisors
Genuine OEM Nissan Parts
Complimentary Shuttle Van*
Complimentary Loaner Vehicles*
Hot Tea
---